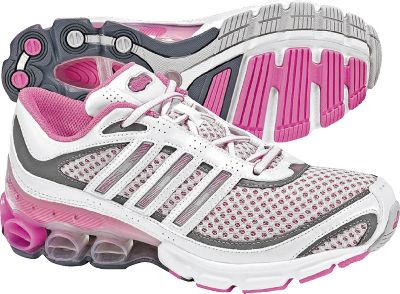 My dear, sweet ED (note the sarcasm) adores these shoes. They are
his
pride and joy and he loves nothing more than to let me
know it. I may set every intention to assert myself and go for a mindful jog outdoors on a beautiful day. But, as I sit down and slide my foot into each shoe, I feel a strange sensation. With each shoe lace pulled more tightly arrives the increasing strength of ED. By the time I stand with both feet pressed firmly in the ground, my body has been taken over. I'm in a different state of mentality with a revitalized energy
ready to take over the world
.
I feel invincible as I stare at myself in the mirror with eyes widening and glaring into the distorted reflection of a superhero.
Today,
I tell myself,
I will run farther and faster than yesterday-- because I can.
My i-Pod has successfully drowned the rest of the world out and the reverberation of ED shines strong and bright,
like a laser
, in the center of my brain. It's go time. My intention for the run is never to lose weight, at least not until I take the first strides along the hard pavement. Once I start, my mind becomes a stop watch and coach keeping track of mileage, time, and calories burned.
ED becomes my coach
during the workout (some hell of a coach). I must go faster, hold the correct posture, work my muscles, and keep my heart rate up. By the end of the run, I'm usually unsatisfied. I tell myself,
That's it? But I have so much more energy. What can I do next?
Thus, the initial intention of a 30 minute enjoyable jog has transformed into boot camp.
I hold a laser pointer full of passionate energy. It's so strong that when my mind is set on a goal, I put forth 110% effort, though I typically feel like I've only given 98.9% (oh, perfectionism). Because my power rests in a laser beam, as opposed to a bulb lit in a lamp, it is strong and pointed at a specific target. As I've previously mentioned, I love helping others and giving back. If I could be a professional volunteer and sustain myself as well as a family for the rest of my life, I would drop everything else in a heartbeat to travel the world and pursue my destiny. The satisfaction and joy I feel when I see a smile on a child's face is ineffable. Author, Mitch Albom expressed how I feel. He said,
"
The way you get meaning into your life is to devote yourself to loving others, devote yourself to your community around you, and devote yourself to creating something that gives you purpose and meaning.
"
However, I have chosen to point the beam at a target that is more dangerous than passionate. The question I search an answer for is,
why?
"Follow your heart, but be quiet for a while first. Ask questions, then feel the answer. Learn to trust your heart".
This game of laser tag is between my mind and my heart. My goal for the day is to be mindful of the thoughts that arise in my mind and the emotions I feel in my heart.
Save
Save